What is Nouveau Day?
Each year on the third Thursday of November, a wine style called Beaujolais Nouveau hits the
shelves worldwide. This marks Beaujolais Nouveau Day, a celebration of this wine, its release,
and its region. It also happens to be our Wine & Spirits Buyer Mike's favorite holiday!
What, uh, what's a Beaujolais again?
Beaujolais is a wine region tucked in the Burgundy region in the French alps. They are known for popularizing a method of winemaking called "Carbonic Maceration" which is a winemaking
process that takes place during fermentation to produce fresh, fruit-forward, low-tannin wines.
Carbonic maceration uses whole clusters of grapes in a sealed, carbon dioxide-filled tank to
start fermentation within each grape.
So wait, what's Beaujolais Nouveau…?
They are the new wines from the most recent harvest, bottled and sold anywhere from three
weeks to three months after grapes are plucked from the vine. Beaujolais Nouveau, made from
the Gamay grape and vinified using whole-cluster carbonic maceration is a centuries long
tradition started to celebrate the end of harvest and, essentially, kick off the holiday season.
Beaujolais Nouveau wines CANNOT be sold before Nouveau Day, however, the same cannot
be said about their American counterparts…

In the past decade or so American winemakers have decided to get in on the Nouveau Day fun
as well, making nouveau-style wines using a myriad of vinification techniques and grape
varieties. Ideal selections for any and all holiday fare, nouveau wines are meant to be drunk in high volume and in good spirits.
Count me in! How can I celebrate Nouveau Day?
Come hang with us at The Counter in Culver City or Long Beach this Thursday, November 17th from 4-9pm as we celebrate Nouveau Day with a very special flight of Nouveau wines! You can also grab some of our favorite Nouveau wines from this season to make them the star of your Thanksgiving and Holiday feasts. Our Nouveau wines are now available at all locations and available online for pick-up and local delivery!
Made from a blend of carbonically macerated old vine Valdiguié and co-fermented Petite Sirah and Zinfandel, this year's Slipper Sippers from Las Jaras in undeniably DELICIOUS. It's packed with a ton of red and blue fruit – think red plum, blueberry, boysenberry and pomegranate. This wine is fresh, lively, and super crushable. You'll definitely be coming back for more. And to top it off, its zippy acidity really makes it compatible with all your holiday dishes!
Broc Cellar's 2022 Nouveau is a gorgeous blend of white, rosé and red. The wine is made of 50% Valdiguié, 25% Orange Muscat and a blend of mixed varieties all brought in and pressed during Harvest. It has an abundance of fresh, bright red fruit with notes of cranberry and tart cherry. This wine is electric and vibrant with a mouth-watering acidity and freshness that pairs perfectly with food.
This lovely Nouveau wine from downtown LA's Angeleno Wine Co. is 100% Tempranillo sourced from the Agua Dulce region in Los Angeles County. This wine is fruity, fresh and meant for easy-drinking. It has prominent notes of cherry, cocoa and coffee with an underlying herbal note. On the palate, it has a softer acidity, giving it a lush, smooth mouthfeel.
Based in Sonoma, CA, Scribe Winery has created a fresh and lively Nouveau wine made purely of Pinot Noir. This wine was made entirely through the carbonic maceration method, which has resulted in gulpable, fruit-driven juice. It has notes of fresh plum, orange peel, and wild mint. This glou glou wine is soft, smooth, supple and very approachable for wine lovers and novices alike!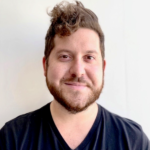 Mike is the wine and spirits program manager at Hi-Lo, doing the honorable work of tasting all the great stuff he can find, and then handing us his all-time favorites. Mike keeps it seasonal, of-the-moment, fresh and fun.